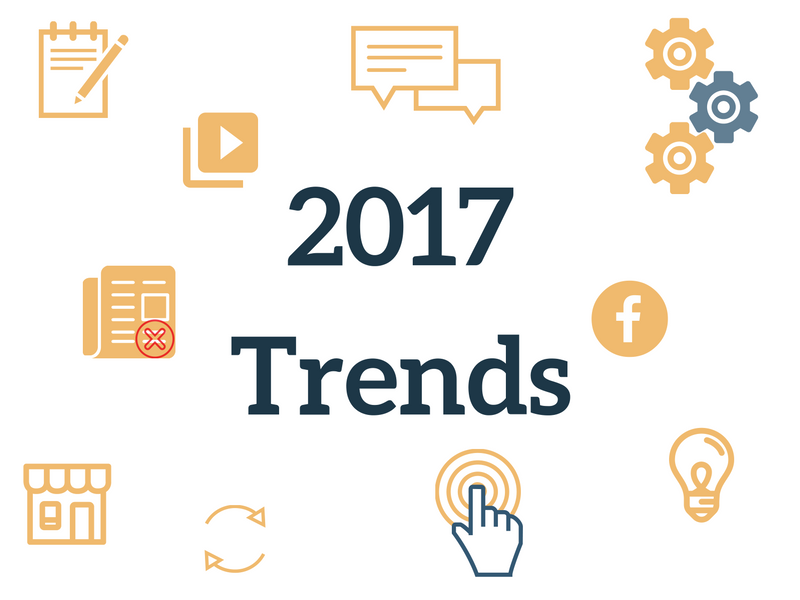 Many experts share their feedback about what will be hot (or not) in the new year, or in other words, predictions for the business world. And we want to see what our network thinks about what trends will be important in 2017, mainly for the fields of communication, social media and for small and medium businesses (SMB). Plus, is this type of initiative (to ask for people's point of views) something of interest?
Find below the top 10 trends from our contributors – a mix of people from around the globe, with various levels of experience and speaking different languages. (See who they are at the bottom of the article.) Oh and we contributed our two cents too! ;-)
TREND 1: Digital Transformation
Manuel Schmöllerl mentions: "Local and regional companies will need to learn how to communicate digitally to survive."
Interesting statistic from Progress: 47% of companies have not started to work on the digital evolution.
Peter Stawowy overheard someone say this powerful quote: "Digital transformation will be as impactful as the book printing about 500 years ago." But as he asks, will it be felt in 2017? It might be more of a gradual and slow process. We couldn't agree more!
TREND 2: More Complex Communication Strategy
Working in segmentation and direct marketing, Eva Tsang highlights a very important trend that will become more and more prevalent: "Communication strategy is getting more complicated in the sense that it has to be more multi-dynamic and targeted. The trend is to dissect (the) communication channels by stage of the buying decision more granularly in order to follow where customers are along their purchase journey."
One trend that I see is that communications will become more authentic and real. Customers want help to solve their problem, not get force fed something from the marketing or sales person.
TREND 3: Evolving Content Marketing
Content marketing has gained momentum since 2013. Jonathan Aufray mentions: "Content marketing will be key (in 2017). But the formats will change – blog posts and infographics will be most used." (Note: video is also VERY important – so it has it's own trend – see #5! ;-))
Let's see what the numbers say:
TREND 4: Discussions Around Fake News
Fake news exploded at the end of 2016. Stawowy: "In the media, politics and the business world in general, I think fake news will be further discussed in 2017." And he even has a few ideas of how to solve this matter: "I think the solution is not in the legal realm. It should be more along the lines of sensibilizing and providing media skills instead of coming up with a policy to regulate the content. That is, companies and institutions need to learn to react faster and manage these discussions. And for the media, there is an opportunity to gain back the lost credibility!"
TREND 5: Video!
This is one important trend that almost half of our contributors highlighted as key in 2017. Great – but where do you start? Alex Paz-Barreiras: "Video has 135% greater organic reach than photo posts (on Facebook).(That is why you should) create a strategy that includes video in all parts of the marketing and sales funnel to stay ahead of the competition."
Aufray: "Videos and live videos with growth through FB Live and Periscope. Google and Twitter are also investing in video. (I see) better live streaming features too."
And even Sylvain Awad has a very interesting prediction: "With brands leveraging video more and more through Facebook Live, it might even surpass YouTube, if it hasn't already."
Needless to say that video will gain even more momentum. For small and medium businesses, Dirk Spannaus mentions: "Video is complex and I think that it will take a bit of time before this audience adopts this medium." If I may add, I think there is a great opportunity to start creating semi-professional content and learn about what works and what doesn't.
Afterall, 4x as many consumers prefer to watch a video about a product than read about it. Plus Cisco projects that global internet traffic from videos will be 80% of all traffic by 2019.
Video has a bright future indeed!
TREND 6: More Technology In The Marketing World
Let's start with chatbots! Aufray: "Chatbots will be huge, and will change the speed of communication between businesses, customers and prospects." But on the other hand, Frédéric Mailloux is a bit sceptical and says: "Chatbots: next trend or flop?" Only one way to find out! Stay tuned! ;-)
Three of our contributors highlight that augmented reality and virtual reality will be important this year:
Mailloux: "(There will be) more developments in augmented reality and especially outside the gaming world (e.g. PokemonGo), which was just the beginning."
Aufray: "(These) new technologies will create a new trend in content marketing – these "avant-garde" formats will be the trend!"
Ruth Zuchter: "It may be the next big step for med- and large brands to make better use of social from an advertising perspective."
Zuchter also highlights: "Email will still be one of the most important marketing communication tactic." As per MarketingSherpa, 72% of U.S. consumers prefer to receive communications from companies via email while postal mail was second with 48%.
And one great point that Zuchter makes is about the usage of these technologies: "As these platforms continue to become more sophisticated and multi-layered, marketers will need to invest in better training for their staff in order to support widespread uptake of the array of functionality on offer. Without ongoing training and support, many companies won't know how to optimize their investment and will miss the benefits of some of the more advanced AI-based capabilities of today's data-driven platforms."
TREND 7: News Ways To Use Social Media
One of those ways is influencer marketing. (Here is a great description of what it is.) Mailloux thinks: "Influencer marketing will be more important and be more organized." On the other hand, Stawowy mentions: "It's getting more and more difficult to identify influencers. There are, and will be, more offers available. How do you stand out? I think the right recipe is quality, not quantity! It has to make sense in the long-run and not just a quick initiative to get visibility."
Another trend, as per Awad: "Social selling where customers can click on a product and buy it." Spannaus highlights good points to social selling: "It's been a trend for the past few years and no real developments happened yet. BUT there are signs that Facebook is working on this initiative with the integration of online payment systems PayPal and Stripe. These have been "sightings" in the page settings!"
TREND 8: Facebook As A Special Mention
Ahhh Facebook! THE leader in social media. A few of our contributors highlighted interesting comments about the social media giant. Mailloux: "Facebook will continue to add features "inspired" by competitors." To which Spannaus adds: "For example classifieds!"
Awad also mentions: "Facebook is making it easier and easier for consumers to consume in one place. (One-stop shop anyone?!) And brands NEED to be there to survive!" One word of caution from Spannaus: "It is also important for businesses to work on other strategies to not be so dependent on Facebook. For e.g. hotels. They are very dependent on portals."
TREND 9: Greater Understanding Of Social Media
Social media guru Mailloux highlights: "Brands will better understand social and not use it as another traditional channel." Awad adds: "(It is important for SMBs to) choose the right channels to reach their audience: Social media will continue to be key for them. BUT they need to make sure they choose the channels that fit with their product or service – and be where their customers are looking for these offers." A great addition to what Tsang said under Trend 2.
TREND 10: Affordability For Small Companies
Zuchter: "Decreasing cost and an increase in availability of cross-platform tech solutions will allow SMB to take advantage of cloud-based marketing technologies and make their budget stretch." Although solutions will be better priced, Stawowy makes a key point: "SMB are not yet ready or thinking about big data." In other words, it's not because solutions are cost-effective that people will know what to do with it! Again, a great point to make sure you train your team, as per Zuchter in Trend 6.
In Conclusion:
Thanks to ALL contributors for their input and predictions. It will be interesting to see what happens in 2017 and if your predictions will actually come true.
Oh and to my question if this is an initiative of interest – almost half of our contributors what to participate again! Not bad for a first time! ;-)
Our Contributors:
Note:
A few comments and questions come up from doing this initiative, i.e. maybe two weeks is not enough time for people to provide their feedback, maybe December is not the right time to collect the information (with the holiday stress!), maybe we didn't engage our community enough, etc. It was difficult to divide the trends among the 3 categories so that is why I featured the most important trends in general and how it impacts communications, social media and/or SMB.
Any insights or feedback? Feel free to comment below!